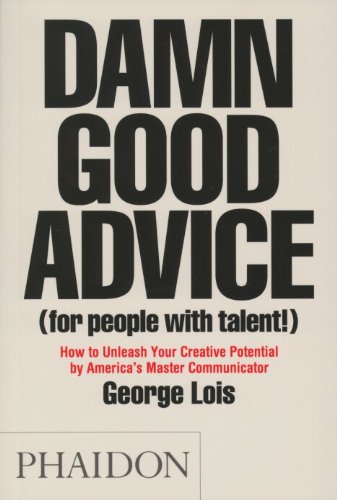 I am interested in this book because it's written by George Lois, the rumored prototype for Don Draper in the TV programme Mad Men.
I love Mad Men and the image of the creative director in an advertising agency. Compared to the brainstorming meeting in the show, there are numerous meetings in my daily work.
These meetings are all boring. I can just feel that these meetings are wasting my life.
Looking forward to reading the book.
Excerpt:
Damn Good Advice (For People With Talent!) is a look into the mind of one of America's most legendary creative thinkers, George Lois. Offering indispensle lessons, practical advice, facts, anecdotes and inspiration, this book is a timeless creative bible for all those looking to succeed in life, business and creativity. These are key lessons derived from the incomparle life of 'Master Communicator' George Lois, the original Mad Man of Madison Avenue. Written and compiled by the man The Wall Street Journalcalled "prodigy, enfant terrible, founder of agencies, creator of legends," each step is borne from a passion to succeed and a disdain for the status quo.